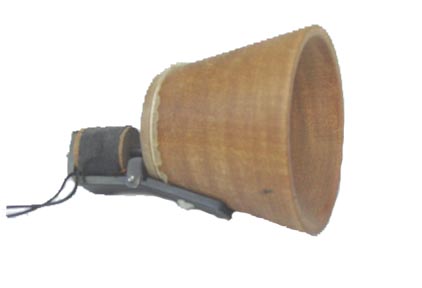 THE PATENT MODEL
This instrument is described as "The Patent Model," since it is based on the illustrations in Figure 7 of Bell's famous patent (No. 174,465, issued March 7, 1876). However, no actual model was ever built or submitted at the time the patent was filed on February 14, 1876. For reasons still unknown, the patent examiner waived the model requirement. Model waivers were fairly common in that era if the invention's function was readily apparent, but inventions employing new technology or making unusual claims, such as transmitting "vocal sounds," normally required a model.
The Patent Model was simply a modified version of Bell's previous Gallows Model, and still employed the relatively inefficient hinged armature that was used on that model. Technically, the Patent Model was identical to the Gallows Model, and would be classed as an electro-magnetic transceiver since it could function as either a transmitter or a receiver. Although Figure 7 depicts two versions, they are actually the same instrument except for the shape of the cones; presumably one is for speaking and the other for listening, although these functions were interchangeable.
The fact that Bell had not been required to submit a working patent model was a point of contention among those other telephone companies being sued for patent infringement. When the Bell Telephone Company filed its first major infringement suit, known historically as the Dowd Case (but in reality against the Western Union Telegraph Company), Bell management decided it would now be prudent, almost three years after the patent was issued, to actually build the instruments shown in Figure 7. Alexander Bell was in Boston during January 1879 for the taking of depositions in that case. In a January 21 letter to his wife, he said:
"...I have spent the greater portion of the afternoon at Mr. Williams workshop and with Mr. Chauncey Smith [Bell Company attorney]. Mr. Renwick "the expert" (whatever that means) is to be here tomorrow, and I wanted to help him try certain experiments to see whether the form of telephone in my first patent will work..."
Fortunately, the Bell Company, now with three years of telephone design experience, was able to construct the Patent Model so that it could not only produce "vocal sounds," but could actually transmit articulate speech.
---
This page was written by A. Edward Evenson, Author of the book The Telephone Patent Conspiracy of 1876 available at Amazon.com
---

Return to Early Telephone Instruments OR

Return to the homepage

Interested in old telephones? Check out the Antique Telephone Collectors Association

In today's world of customer service, customers want a live chat where all of their questions can be answered. If you are in need of a call center that will provide you with continual support, let our website help. Sign online today and find out why our contact center is known and trusted!